16 X WINNER        ST. JOSEPH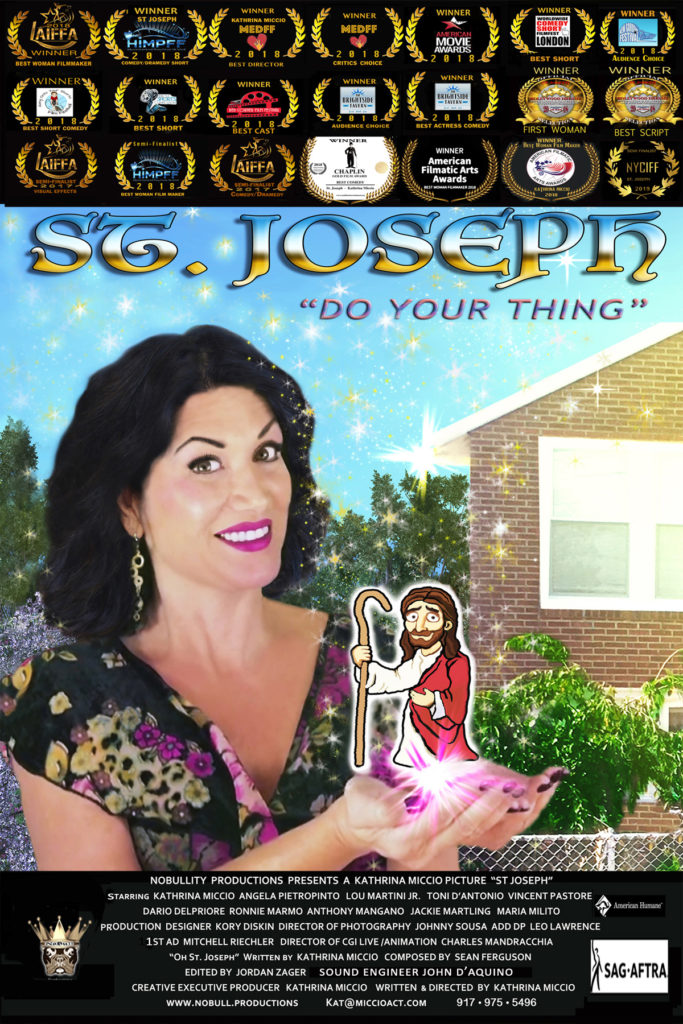 NY1 BEHIND THE SCENES INTERVIEW
FULL ARTICLE TRANSLATION:
Kathrina Miccio. From the peninsula to LAS Vegas
The award-winning Vicana actress IN AMERICA
"After the success of the short film St. Joseph, a film in Vico Equense"
Kathrina has a (semi) American name, but the heart is Italian.
His father Vincenzo left his beloved Vico Equense to crown his dream of love in the new continent.
Her daughter was born there, but while living in New York, she heard of a Vicana doc.
Here, she has a house, but mostly her roots. Italianity is one of the distinguishing traits of her art, or rather, of her arts.
Because she has tried different roles and has been able to cover them all successfully.
Kathrina is a writer, actress, director and producer.
The short film "St. Joseph", which tells of two Italian families, in a suburbs of New Jersey, has consecrated it on the scene of the international comedy.
This year she was awarded the prestigious First Woman of film Award for Action on film Megafest 2018, in Las Vegas. In 2017, her St. Joseph won the Best Comedy Short Award at the Hollywood International Moving pictures Film Festival. At the Mediterranean Film Festival in Syracuse won the title of Best director and was selected for the categories Best Short film and special effects. At the Red Corner Film Festival in Malta She triumphed for the best cast and had the nomination for the best short. Finally, at Rome Cinema Doc, she was awarded the best short film.
Now, however, this success wants to put it in the service of a new project, in which Vico Equense is the protagonist.
The plot is already there and the shootings will be made in
NY, and the surroundings of Vico.
Because, as Kathrina wrote in Fb, posting a selfie in Vico: "I love staying in Vico Equense. It has my heart. "
Publicity and Notable Quotes
"What fun!!! Really well conceived and really fun. Funny performances. Original across the board. Congratulations." 
                                                                                             ….Director Tim Busfield (This is Us)
 "In the Winter Edition 2017 we have discovered a great director that wins BEST DIRECTOR AWARD. Her name is Kathrina Miccio that won with St. Joseph, a great comedy short with a lot of big stars."
……….Danny Caprio  MEDFF
http://ingdomenicocutrona.wixsite.com/medff/single-post/2018/01/22/The-Italian-Job          ……….MED Film Festival
"Working on St. Joseph,  tickled my funny bone playing News Anchor,
Beth Layhem"
….Donna Drake of "Live it Up"
"You will laugh, sing along and talk about this story…for years to come.
                                                                                  ……la gazzetta ITALIANA
"Kathrina Miccio is an inspiration for those facing health struggles of their own."                                                                                                                           …….NY 1 
AOFFestival 1st Woman of Film Announced
https://www.actiononfilmfest.com/so/0M6wtoz9?cid=d67b916a-a2f8-4d66-8276-670b2ce22f23#/main
Kew Gardens Festival of Cinema Audience Choice Winner :http://www.qgazette.com/news/2018-08-22/Front_Page/Kew_Gardens_Festival_Of_Cinema_Announces_Award_Win.html
Hollywood International Moving Pictures Film Festival Best Short Comedy Winner. Red Carpet Interview with Dani Jae at HIMPFF Awards Best Short Comedy:       https://www.youtube.com/watch?v=tFWQW6Clxew
Acceptance speech HIMPFF at Awards for Best Short Comedy:       https://www.youtube.com/watch?v=-kn-md8TaYA
BROADWAYWORLD  https://www.broadwayworld.com/bwwtv/article/Kathrina-Miccio-Helmed-Film-to-Feature-Familiar-Faces-from-the-Stage-20170924
https://www.broadwayworld.com/bwwtv/article/Kathrina-Miccio-Helmed-Film-to-Feature-Familiar-Faces-from-the-Stage-2017
https://filmcreed.com/medff-winter-edition-winners-2017/
Filmcreed

Presents a  Short Comedy about two very different Italian families
     Written, directed and starring Kathrina Miccio

St. Joseph is a short comedy set in the suburbs of New Jersey involving two very different Italian families that live across the street from each other. Donna's house is immaculately kept inside and out. Elaine and Doug are more interested in going camping then caring about the appearance of their house. Donna obsesses on the hopes they would move out, when her mother-in-law Virginia tells a story about a  certain superstition.

                 Kathrina Miccio           Donna Adamo
               Angela Pietropinto   Virginia Adamo
                  Ronnie Marmo           Joey Sr. Adamo
Lou Martini                     Doug
Toni D'Antonio              Elaine
               Anthony Mangano   Giuseppe Bruno
    Dario Delpriore            Joey Jr.
Vincent Pastore    "Vinny or Big Puss"
Jackie "The Joke Man" Martling  as Judas The Clown
Maria Milito from DJ  104.3  as Maria
Steve Stanulis    as  Mathew the Carpenter

KATHRINA MICCIO
ACTOR
WRITER / DIRECTOR/ EXECUTIVE PRODUCER
Kathrina Miccio  is a 16x Award winning filmmaker. She wrote, starred in, produced and made her directing debut in her short comedy screenplay, ST. JOSEPH.  She plays the lead character  Donna Adamo. This will be turned into a TV series "Untitled" Her career spans over 20 years. She was recently cast in I AM with Jack Mulcahy, When The Music Dies,  BIRR with Sean Young, The Fifth Borough,  and Saturday In The Park. She also had a recurring part on The Sopranos as Diane the bartender. She was the lead in the play Imagine at The Theater for the New City. Kathrina Miccio is an Artist on many levels, and proud of her Italian heritage. She was born in New York with family roots from the Sorrento coast of Italy. She is a graduate of Wagner College theatrical College with a BA in Fine Arts and Theater, where she began her desire to act. Kathrina Miccio is also renowned portrait artist, and is a Breast Cancer survivor.  
Angela Pietropinto ACTRESS
Angela Pietropinto plays Virginia Adamo. Donna's spit-fire mother-in law. She was a founding member of The Manhattan Project Theater Company and played the title role in  Alice In Wonderland, the recipient of 2 Drama Desk awards and an Obie Award.  Her Broadway credits include The Suicide, Eastern Standard, Tartuffe, Born Again and The Ritz. Film credits include Goodfellas, Shaft, Nobody's Fool, So Fine, Heartburn, Stay, Welcome to The Dollhouse (Sundance Grand Jury Prize Winner) and  Alchemy with 58 award in film festival circuits Nationally and Internationally. Her latest film feature is Earth Mother and HBO mini-series, Show Me a Hero. Ms. Pietropinto has taught acting at Yale Drama School. She is presently on the faculty of NYU Tisch School of the Arts and is the Director of the NYU Open Arts Acting Studio.
LOU MARTINI JR     ACTOR
Lou Martini plays quirky neighbor Doug. He is a long time veteran of both stage and screen. With over 40 some odd years in the business, Lou will next be seen opposite James Franco in the upcoming HBO series, The Deuce, opposite Gretchen Moll in the new Netflix  series 7 Seconds, and opposite Giovanni Ribisi in Amazons Sneaky Pete. He will also produce and star in his own screenplay, Honor, slated to shoot sometime this Fall. Lou may be best known for his recurring work on HBO's classic series The Sopranos.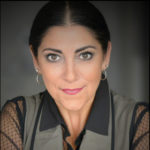 TONI D'ANTONIO ACTRESS
Toni D'Antonio plays quirky neighbor Elaine.  Her acting career comprises 20 years of credits. Her theatrical credits include TV shows Law & Order SVU, The Blacklist, The Mysteries of Laura, Taxi Brooklyn, Blue Bloods, The Following and Nurse Jackie. Feature film appearances in Nasty Baby with Kristen Wiig, Beach Rats , Where God Left His Shoes with John Leguizamo, Riding In Cars With Boys with Drew Barrymore, and Alto with Diana DeGarmo, Annabella Sciorra and Ward Horton.
DARIO DELPRIORE ACTOR
Joey Jr. Adamo
Dario Del Priore, plays Joey Adamo Jr.  Donna and Joey Sr.'s  son.  Joey Jr. is apple of his mothers eye. He has a crush on Maria the pastry girl.  Dario is a 14 year old actor, model, singer and songwriter born in Brooklyn, NY and resides in Freehold, NJ. Dario's infectious smile can be found on ads for Quaker Oats chewy bars and online commercials.  Dario has released 3 original songs with an EP to be released.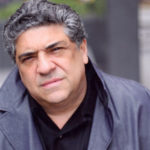 Vincent Pastore ACTOR
"Vincent Pastore" or Big Puss
Vincent is best known for his portrayal of Salvatore "Big Pussy" Bonpensiero on the HBO series The Sopranos. Pastore has made a career of portraying Italian American mafiosi in film and television. Mickey Blue Eyes, Two Family House ,  Riding in Cars with Boys, Witness to the Mob, Deuces Wild, Made, Mafia!, The Hurricane, Serving Sara, American Cousins, A Tale of Two Pizzas, This Thing of Ours, Remedy, Shark Tale, Bachelor Party Vegas, The Family, Once Upon a Time in Brooklyn, Zootopia, Money Train, A Brooklyn State of Mind, and the award-winning indie mob-comedy Pizza With Bullets.
Jackie "The Joke Man" Martling ACTOR/COMEDIAN
"Judas The Clown"
Jackie is an American stand-up comedian, writer, radio personality, author, actor, and singer songwriter. He is best known as the former head writer for The Howard Stern Show .  Martling works around the country performing his solo act of rapid- fire jokes and "Stump The Joke Man" and has appeared in many films including award winning comedy Shoot me Nicely, Comedy's Dirtiest Dozen, Private Parts,The Aristocrats, Send No Flowers and White Irish Drinkers, and Potluck. He also received a Best Supporting Actor Award at the New York International Independent Film & Video Festival.  twitter,  @JackieMartling
His autobiography, "The Joke Man: Bow To Stern,"released 2017.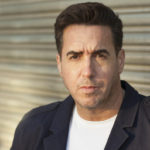 Anthony Mangano ACTOR
"Giuseppe Bruno"
Anthony has guest starred in a number of notable television series including Diff'rent Strokes, Who's the Boss?, 227, Charles in Charge, Step by Step, Murder, She Wrote, Party of Five, Spin City, Seinfeld and The Wire. He also appeared on NYPD Blue, Law & Order, Rescue Me, Blue Bloods, Public Morals, Law & Order: Special Victims Unit and Person of Interest,  Point Break, 8 Heads in a Duffel Bag, Raising Helen, Inside Man, The Family, Lost Cat Corona and The Dictator, and in video games The Warriors, Grand Theft Auto IV, Manhunt 2, Need for Speed: Undercover and Grand Theft Auto: The Lost and Damned.
Maria Milito ACTRESS/DJ  104.3
"Maria"
St. Joseph is Maria's debut in a film. She is a native New Yorker, has been heard on the airwaves for over twenty years and loves all things rock. In 2011, Maria published Clarice and Friends…How They Helped Mend the Hole in My Heart. She is a huge animal advocate.  Maria can often be found at animal functions and charity events.
Charles Mandracchia ACTOR/Dir of Animation
Peter "The Wiseman"
Award Winning Director-Producer/Modeler/3D Animator/Actor/Composer/Artist. Charles Mandracchia is a member of ASIFA-Hollywood (International Animated Film Society). He has won over 30 IMDB Awards for his films You Got a Problem & We Are Friends and is the Director of CGI/Live Animation on St. Joseph – a short film. Charles has also appeared in numerous Broadway and Off Broadway productions (Original Broadway cast of "Grand Hotel", "South Pacific" and "Porgy and Bess", at the New York City Opera and Equity Library Theatre). Charles is also the Composer/co-creator Valentino the Musical and Director/Composer of The Dooples in the Land of Doo-the Musical which was presented at The Cherry Lane Theatre, NYC.
Morgan Hammel Actress
"Mary"
Steve Stanulis Actor
Mathew "The Carpenter"
Stanulis recently created Chaos Production Inc. and announced his first project, the horror movie Clinton Road, which he will direct, starring Ice T, Vincent Pastore, Bo Dietl, Ace Young and Fredro Starr.the pilot for the TV series The Fifth Borough, starring Cathy Moriarty, Richard Grieco, Vincent Young, Vincent Pastore, and Joseph D'Onofrio, and Kathrina Miccio in development at Netflix.
Donna Drake TV Talk Show Host "Live It Up"
"Beth Layham"
Jenna Galgano Actress
"Maria"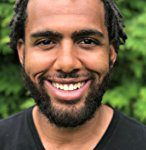 Marquis Wood  Actor
Preacher
Renee Wood Actress
"Bride"
Renee Wood is known for Hart Blvd. (2017), American Widow (2015) and The Networker (2015).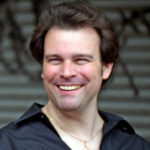 Brian Bergdoll Actor
"Groom"
THE BAND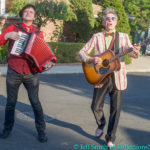 Rick Treese
"Accordian"
Luigi Scorcia
"Guitar"
Your generous contribution will go toward film festival submissions, publicity and travel.
No donation is too small, and will be greatly appreciated.
Click here to contribute:
Contact:  917 • 975 • 5496
Executive Producer
Writer
Director
Actor